USATF San Diego-Imperial Association
Race Walking
Race Walking Chairman

Pan Am Cup
(from Nick Christie) A third-place team finish for USA and a third place women's 20k finish highlighted the accomplishments of some San Diego athletes competing in Arica, Chile, May 9-10 for the 2015 Pan American Race Walking Cup. Coach Anthony Garcia, just hired as an assistant cross country coach for UCSD next season, served on his second USA Team. He worked as a coach at last year's USA/Canada Dual Meet. Garcia commented, "I thought that this team as a whole competed at a level beyond what you see normally, even at this level."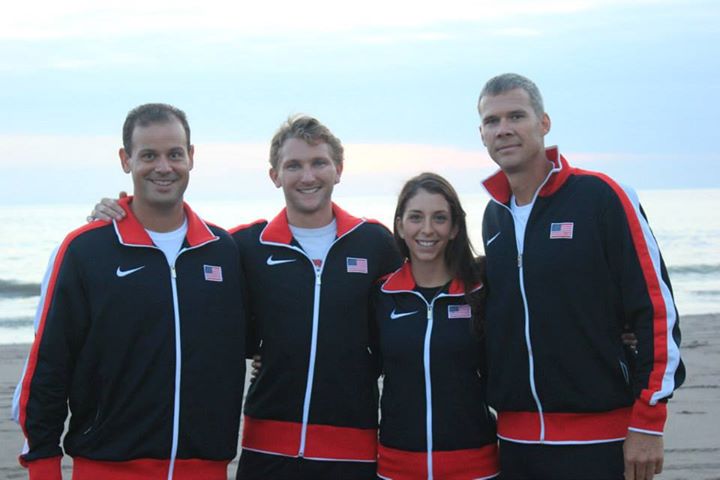 Among the athletes on the Pan American Cup team were San Diegans Miranda Melville, John Nunn, and Nick Christie. Melville, coached by Olympian Tim Seaman, helped greatly with the USA finish as she placed 8th in the women's 20k. Melville, who also holds the IAAF Olympic standard and the IAAF World Championship standard got a taste of her competition for the Pan American Games to be held in Toronto this July. "This was a great experience to hopefully make us all stronger athletes and competitors in the months to come," said Melville. With many of the athletes at the Pan American Cup likely to be present for the Pan American Games, Miranda's 8th place finish bodes well for the pre-Olympic event.

John Nunn led the men's 20k team to a 7th place finish among North and South America. A veteran of the event, he mentored the young USA men during a rough competition. Nunn, already holding the World Championships standard for Beijing in the 50k, dropped down in distance for the trip to place 23rd. Nick Christie, formerly of Grossmont High School and Cuyamaca College, finished in 27th. The two men will prepare for USA Outdoor Nationals this June.
Learn to Race Walk

If you would like to learn a bit more about the technique involved in race walking, check out what Racewalk Clinic has done: http://www.racewalkclinic.com/Technique/Technique01.asp

Race Walk Training in San Diego

San Diego has a variety of race walking opportunities for walkers of all ages and abilities. For walkers interested in learning the basics or improving their skills, check out Liz Salvato's Walk2Win training program for a "goal-oriented program offering guidance, motivation, structured training and FUN!" For younger walkers, several youth clubs offer regular practices and competitions in various locations around the county. Check out the list of local clubs at link on the left. See also: www.racewalk.com

Past Race Walking Events
Date
Event
Location
Results
Feb 17 2013
San Diego Walking Festival
Cuyamaca College
Results
Mar 2-3 2013
USA Indoor T&F Championship
Albuquerque, NM
Results
Mar 17 2013
Pan American Cup RW Trials
Huntington Beach, CA
Results
Mar 17 2013
USA Masters 20K Race Walk Championship
Huntington Beach, CA
Results
Mar 22-24 2013
USA Masters Indoor T&F Championships
Landover, MD
Results
May 5 2013
USA 10K Race Walk Championships
Hauppauge, NY
Results
May 19 2013
USA 15K Race Walk Championships
Riverside, CA
Results
May 19 2013
USA 15K Race Walk Championships
Riverside, CA
Results
Jun 1 2013
USA 5K Race Walk Championships
Albany, NY
Results
Jun 8 2013
San Diego-Imperial Association T & F Championships
Olympic Training Center Chula Vista, CA
Results
Jun 20-23 2013
USA Outdoor T&F Championships
Des Moines, IA
Results
Oct 5 2013
USA Masters 5K Race Walk Championships
Kingsport, TN
-
Oct 13 2013
USA 40K Race Walk Championships
Asbury Park, NJ
-
Nov 24 2013
USA 50K Race Walk Championships
Coconut Creek, FL
-
Dec 28 2013
USA Indoors 5,000m Race Walk Championships
Rochester, NY
-